Her Royal Highness Princess Maha Chakri Sirindhorn presided over the opening ceremony of 18th NSTDA Annual Conference (NAC2023) organised by National Science and Technology Development Agency (NSTDA), Thailand Science Park, Pathum Thani, on 28 March 2023. Spanning over 28-31 March 2023, the conference this year was themed "NSTDA: STI Powerhouse to Drive BCG Economy for Thailand's Sustainable Development".
On this occasion, National Energy Technology Center (ENTEC) Executive Director, Dr.Sumittra Charojrochkul, and Director of Energy Innovation Research Group, Dr.Pimpa Limthongkul, had received the utmost honour to welcome Her Royal Highness Princess Maha Chakri Sirindhorn and give a tour to ENTEC exhibitions. Her Royal Highness was shown key research outputs from ENTEC which comprised battery technology for energy storage (standardised swappable battery module and swapping station for electric motorcycles), development of battery materials with advanced properties, and recycling of materials from lithium-ion batteries.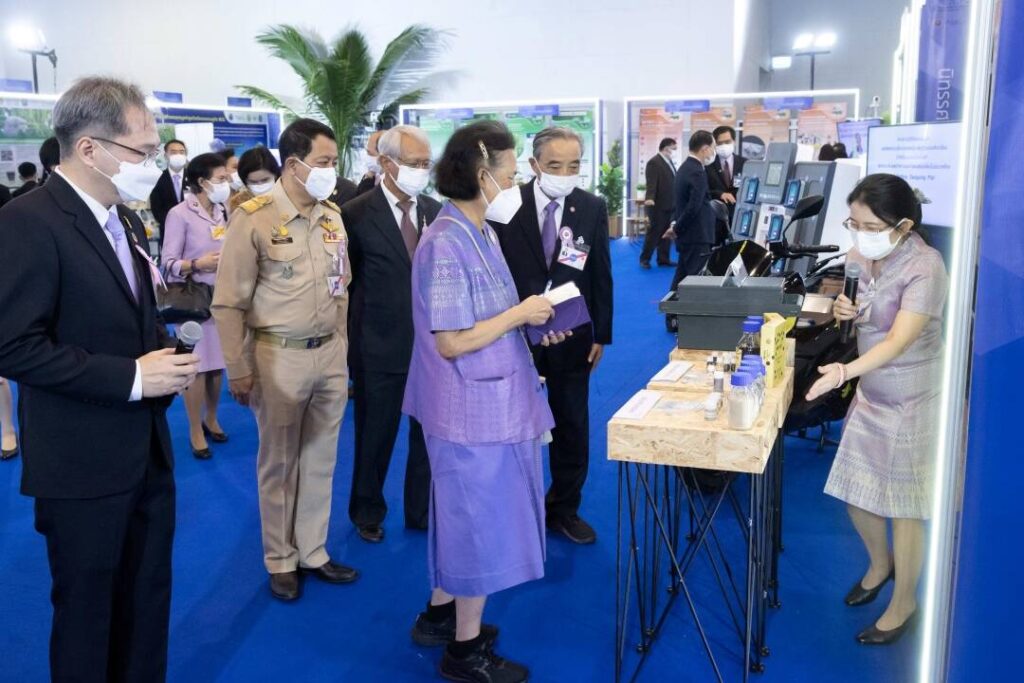 These outputs are the results of extensive research and development collaboration between ENTEC and collaborators from higher-education as well as private sectors.
Considering ease of operation, value for money, infrastructure requirement as well as end-of-life management, the swappable battery module developed by ENTEC is a standardised module designed to fit and perform across multiple manufacturers and models of electric motorcycles.
Materials with advanced properties for battery applications from ENTEC include battery electrolytes (electrolyte with enhanced safety, and electrolyte for solid-state batteries), as well as biomass-derived carbon for uses in lithium batteries, sodium batteries and supercapacitors.
ENTEC's capability to recycle battery materials greatly contributes to reduction of electronic waste, as well as facilitation of circularity within the battery industry to re-use materials from degraded batteries for the production of new batteries.