ENTEC was an enthusiastic participant in the AUTOMOTIVE SUMMIT 2023, which took place at Bitec Bangna, Bangkok, from June 21st to 23rd, 2023. The summit provided a valuable opportunity for industry experts and professionals to engage in meaningful discussions and present the most recent innovations in the automotive field.
On June 22nd, Dr. Nuwong Chollacoop, Director of the Low-carbon Energy Research Group at ENTEC, played a significant role as the moderator for two prominent segments of the panel discussions during the summit. The first panel discussion, titled "Human resources challenges face the next-generation automotive industry" explored the pivotal role of Human resources in the future of the automotive industry. The speakers were representatives from renowned institutions such as Thai Summit Autoparts Industry, SAIC MOTOR, Toyota Tsusho Nexty Electronics (Thailand), Pathumwan Institute of Technology, and Kasetsart University Sriracha Campus.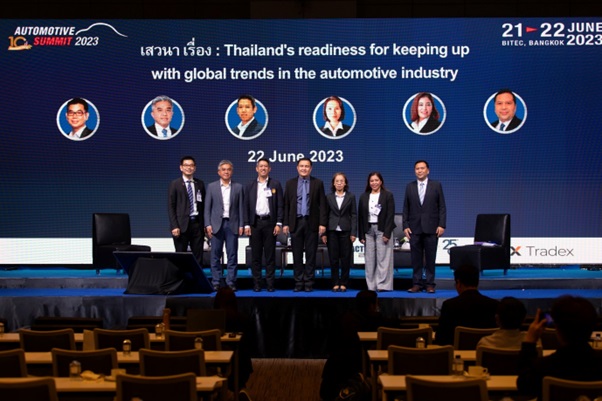 Another panel discussion is "Thailand's readiness for keeping up with global trends in the automotive industry This session specifically emphasized the examination of current global trends within the automotive sector. Esteemed speakers representing renowned institutions such as Thailand Automotive Institute, Office of the Permanent Secretary Ministry of Industry, Energy Policy and Planning Office Ministry of Energy, Department of Land Transport, and Thailand Greenhouse Gas Management Organization (Public Organization).