On September 1, 2023, at Bussakorn Room, NECTEC Building at Thailand Science Park
Dr. Lily Eurwilaichitr, ENTEC Assistant Executive Director together with Dr. Peerawat Saisirirat, Dr. Kampanart Silva, Dr. Visarn Lilavivat, Researcher at Renewable Energy and Energy Efficiency Research Team, Dr. Manop Masomtob, Researcher, Energy Storage Technology Research Team, and Dr. Taweewat Krajangsang, Researcher, Solar Photovoltaic Research Team welcomed professors and students from the Tokyo Tech-Asia Young Scientist and Engineering Advanced Study (AYSEAS) Program to ENTEC, NSTDA.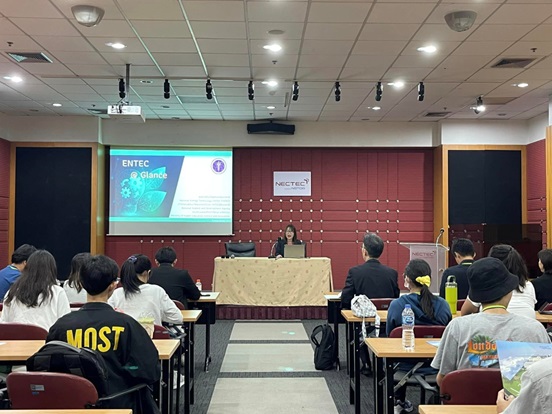 The visit commenced with an opening remark by Dr. Lily Eurwilaichitr, who also provided an informative overview of ENTEC's mission and activities. Subsequently, Dr. Peerawat Saisirirat shared insights into the highlights of their research endeavors, particularly in the realm of low-carbon energy research. Following this presentation, the group was guided on a tour of ENTEC's research laboratories, offering them a firsthand look at the innovative work being conducted within the institution.