Background
Modern security devices typically consist of highly sophisticated electronic circuits and often rely on batteries as a power source. Security agencies need to purchase and import such devices from abroad at high price. When parts in such devices including batteries are damaged or degrade, these devices  are prevented from reaching their full potential. Thus, the capability to manufacture replacement parts including batteries for domestic use especially for security applications is crucial.
Lithum-ion battery pack and battery charger for security applications were developed under research collaboration between National Energy Technology Center (ENTEC), National Electronics and Computer Technology Center (NECTEC), National Security and Dual-use Technology Center (NSD) under National Science and Technology Development Agency and its counterpart, Army Research and Development Office (ARDO).  The projects were supported by  Thailand Science Research and Innovation (TSRI) Year 2015, Energy Policy and Planning office (EPPO) Year 2017 and under Research Gap Fund Program, Ministry of Higher Education, Science, Research and Innovation (MHESI) Year 2019. As of 2021, this work has been elevated from field tests to industrial production and usage. The design and production technology has been transferred to Oska Holding Company Ltd..
Goal
To analyze the root cause of silver streaks and propose solutions to the problem precisely.
What did the research team do?
ENTEC team conducted research, developed, and transfered technology know-how on battery pack design and production to private licenser. The details of the operation are as follows:
Collected usage data of the original product and additional usage requirements through interviews and actual site visits.

Carried out product design and tested out production feasibility.

Prototype production and performance testing.

Field test (2 years).

Established materials flow and production processes for technology transfer.

Conveyed an overview of product features and production processes to potential licenser.

Performed licensee readiness assessment.  Provided key information to improve readiness for technology transfer including raw material handling and equipment.

Transferred technology through intensive training including technical background, workshop on production process, product quality control and trouble shooting at ENTEC and at the actual manufacturing site.

Tracked the technology transfer results of the battery pack used in the field.
March 22, 2021, Oska Holding Company Limited delivered battery packs produced by the company to the 31st Artillery Battalion, 1st Artillery Regiment, Royal Guard for the Army use. Major General Somboon Ket-in, Director of the Army Research and Development Office was represented as the Chairman and witness at the handover ceremony.
Research results
Battery packs:
3 times higher capacity than the original.

24-hour use without charging.

Quick charge ability (within 3-4 hours)

High durability and long service life with easy maintenance.

Passed safety tests for both cell and packs

lower cost than imported.

Enhance Thailand production capability in high quality and high standard battery packs for Thai security industry sector.
Research status
Lithium-ion battery pack and charger have been registered on the Thai Innovation List on December 2020 (additional list)

Oska Holding Company Limited received technology transfer of battery pack. The company has commercially sold the packs.
Outlook
Continue on conducting research and development on battery packs and related products for electric vehicles and other applications.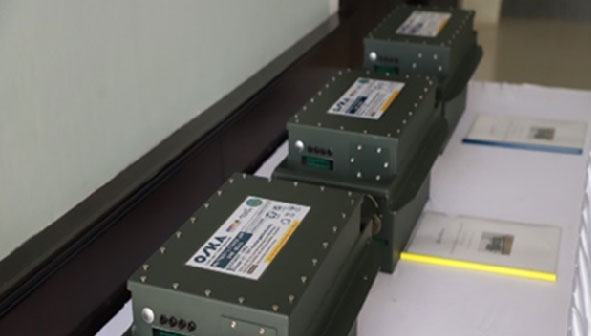 Registered in Thai Innovation List (December 2020, additional issue) by Budget Bureau, Security applications
Research team
Dr. Pimpa Limthongkul, Dr. Siwaruk Siwamogsatham,Dr. Kittipong Kasamsook, Dr. Jiravan Mongkoltanatas, Dr. Thanya Phraewphiphat, Dr. Manop Masomtob, Mr. Viset Lailuck, Dr. Khwanchai Tantiwanichapan, Dr. Chayut Thanapirom, Mr. Patharakorn Rattanawan, Mr. Napat Cota, Ms. Chia Jia Yi, Mr. Matanee kitjaroen, Mr. Pirapong Fakkheow
Contact
Papawee Likitdecharoj (Analyst)
Industrial and Business Liaison Section Business Development Division
Tel: +66 2564 6500 Ext. 4306
E-mail: papawee.lik@mtec.or.th