Background
Remote and rural areas always faced with a lack of electricity and an inaccessibilty of phone signal. These two problems are major causes of the barrier to human resource development for learning society in digital age and causing disparities in access to technology. To reduce these disparities, an ICT project for lifelong learning for marginalized communities under the Royal Initiative of The Office of Her Royal Highness Princess Maha Chakri Sirindhorn's Projects
(OPSP) has been initiated. This project has been operating since 2016. In 2021, the project is in the third phase, which was expanded from the "Pilot project for managing of solar power generation systems in educational institutions and learning centers for hill tribe communities in the project area under the Royal Initiative" that has been operating since 2008 (Phase 1-2 Project) in collaboration with the Information Technology Foundation under the Royal Initiative of Her Royal Highness Princess Maha Chakri Sirindhorn Her Royal Highness Princess Maha Chakri Sirindhorn.
Research objectives
Technology for generating electricity with Stand-Alone or Off Grid PV/Hybrid System and remote monitoring or telemetry with ICT systems that are suitable for forests, upland, and remote areas or at the edge of the country which does not have access to an electric power grid. The application of these systems during the year 2016-2021 are as follows:
Development of teaching competency of the Royal Thai Police for the application of ICT

Development of career skills about Digital Marketing for students in school

Development of telemedicine service system for the Royal Thai Government's Suksala and the infirmary of BorderPatrol Police School

Promotion of the capability of a community to improve the quality of life on the topic of "Manufacture of self-reliant LED lighting kits" 
What did the research team do?
In Phase 1 and 2 of the Project (2008-2015) two solar power generation systems in schools and remote communities has been installed: (1) a small system of 480 watts (Wp) capable of generating electricity up to approximately 1.5 kilowatt-hours/day (kW-h/day) and (2) battery systems that can back up electricity for 2 days 
During Phase 3 of the project (2016-present) the Stand-Alone or Off Grid PV/Hybrid System will be designed and developed to be able to produce energy together with an electric power supply from other sources available in the area such as wind power, hydropower, and generators. The project in this phase also includes design and development of the electricity generation system to attain a higher power capacity and durability. In addition, a monitoring system has been designed to monitor the electricity generation and performance system.
Research results
As for an electricity generation system for large schools, the installation size is at least 5,000 Wp for each school, with an average electricity generation capacity of not less than 8.5 kilowatt-hours/day. This system has a backup battery that can provide electricity for a couple of days in case of raining or low sunlight and a diesel generator as an emergency backup power source.
The electricity generation system has the following features. The installation is easy since appropriate components or quick-detach attachments have been selected. The solar panels can be installed both on the roof of and on the ground of the building. The system is uncomplicated by designed for ease of operation and maintainance, Emphasis is placed on preventive maintenance rather than corrective maintenance. The system is protected from environment by packing important electrical equipment in a cabinet or a sealed box to prevent insects, dust, water spray and choose equipment that is suitable for outdoor use and has IP Rating standards.
Research status
At present, the project has installed an electricity generating system and got it up and running for schools and communities in 12 areas under the Border Patrol Police Headquarters, 8 areas under the Office of the Non-Formal and Informal Education: NFE) and one area under the Office of the Basic Education Commission (OBEC). In the year 2020, the system has been extended to 2 more schools. As of October 2021, this project has benefited more than 13,000 people and 1,000 households in 23 areas.
Outlook
Collecting data on the results of the operation of the electricity generation system and studying the economic value of long-term use of lithium-ion batteries.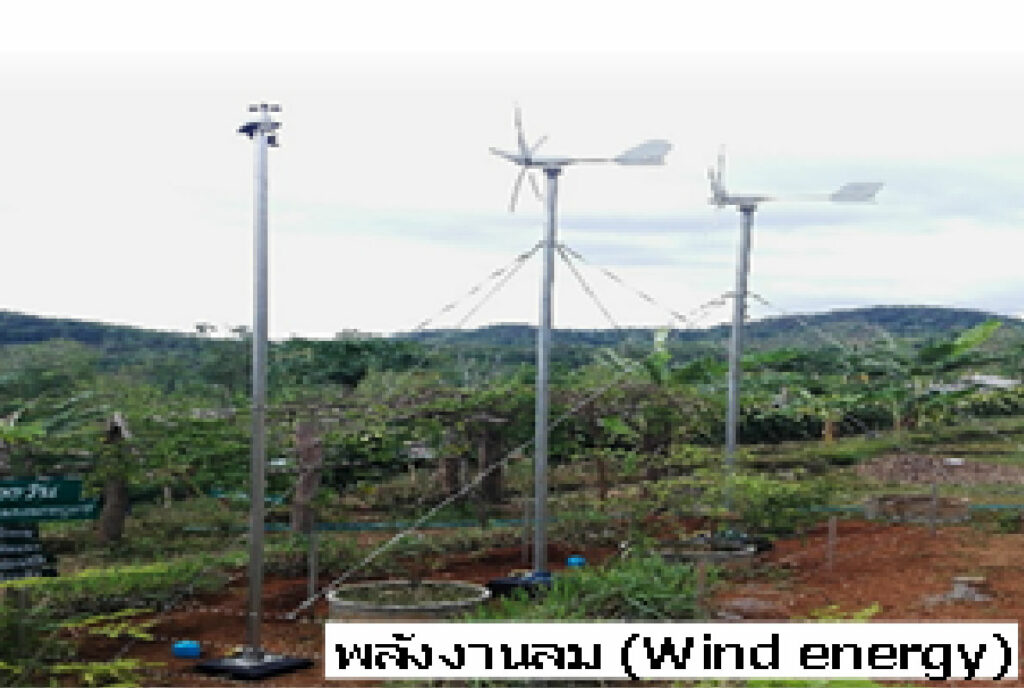 Installtion of wind turbine (1KW) at Learning Center, Border Patrol Police, Prachuap Khiri Khan
Research team
Dr. Aswin Hongsingthong, Dr. kitti.wongthavarawat, Dr. Amornrat Limmanee, Dr. Nopphadol Sitthiphol, Dr. Taweewat Krajangsang, Mr. Nuttakarn Udomdachanut, Mr. Suttinan Jaroensathainchok, Mr. Rangson Pluemkamon, Ms. Pattanun Nownaisin
Contact
Papawee Likitdecharoj (Analyst) 
Industrial and Business Liaison Section Business Development Division
Tel: +66 2564 6500 Ext. 4306
E-mail: papawee.lik@mtec.or.th